biography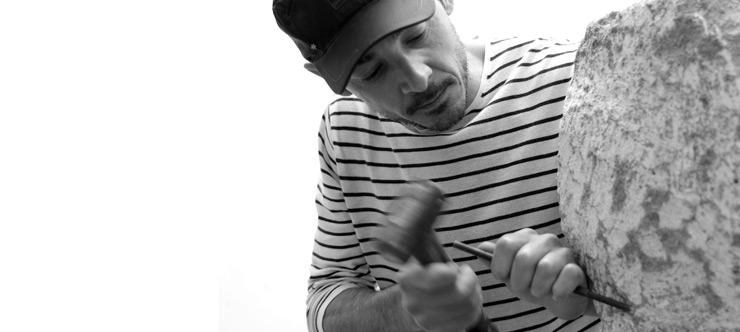 Ezio Cicciarella was born on 22nd September 1976 in Vittoria, a small town in Sicily.
As a child he was attracted to open spaces, construction sites and the tools used by his craftsman father, as opposed to the classroom. From an early age he was particularly interested in construction and restoration techniques, as well as stonecutting and intarsia. As he grew up, his longing for knowledge, his need for new encounters, and his thirst for novel experiences increased, thus leading Ezio to travel frequently both within Italy and abroad. He continued to be dissatisfied and restless, and was always looking for that "certain something" that would gratify him and make him feel completely fulfilled. In 2001 he started to create his first sculptures, unaware that he had discovered a source of inspiration, which would, in turn, give sense to his life. In 2008 a turning point: in the face of numerous difficulties, he decided to open his own studio in the centre of Vittoria and devote himself entirely to his art, which would both fascinate and enthrall him from then on. It was from that point onwards that he started to create a wide range of works of art, constantly developing his own style and refining his technique. In the meantime, he studied and discussed art, and extended the artistic connections, coming into contact with the likes of Franco Sarnari and Vittorio Sgarbi. This long and demanding path culminated in his participation at the Venice Biennale in 2011. In the same year, he also set up an exhibition space in Via Cavour, a few steps away from his studio where, to this day, he still creates his works of art.

Sculpture - Ezio says - has illuminated my life, but it requires an absolute and unconditional dedication, courage and endless sacrifice.
If it is true that art is more of a calling than a profession, than Ezio Cicciarella's inclination has led him inevitably to this calling.